Oxford MP Layla Moran calls for music venue protections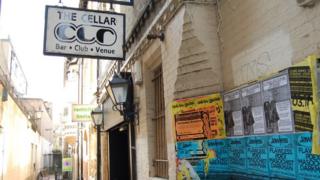 There needs to be a change in the law to better protect well-loved music venues, an Oxford MP has said.
Layla Moran, who represents Oxford West and Abingdon, says a "rethink" is needed after The Cellar, a venue in the city, came under threat.
A petition to keep it open gathered 13,000 signatures and the application was officially withdrawn in October.
John Spellar, MP for Warley & Westminster, introduces a bill on Wednesday in the House of Commons.
Ms Moran says if it became law the 'Planning (Agent of Change) Bill' would require developers to take account of the effect of their schemes on music venues.
It has been backed by the Music Venue Trust, the Musicians Union, and UK Music.
Liberal Democrat Ms Moran said: "The Cellar is understandably loved by generations of people in and around Oxford and is a key part of our city's live music scene.
"As a new MP at the time of the proposed closure, it was really encouraging to see so many people getting involved with the planning and political process for the first time in a bid to save the Cellar.
"I'm particularly glad that people power won the day.
"But it led me to think that there needs to be a rethink of planning policy to better protect well-loved music venues from future developments."
The future of The Cellar was thrown into doubt last year when landlord St Michael's and All Saints' Charities submitted an application to redevelop the basement venue beneath a shop.
Previously known as The Corn Dolly and The Dolly, it has been run by the Hopkins family since the 1980s.
Several politicians and musicians sent messages of support during the campaign to keep it open, including Oxford bands such as Foals and Ride.
Tim Hopkins, the venue's current manager, said: "We may be a small venue but we hope from all the incredible support we've seen, it will help highlight the importance of this bigger problem the UK faces regarding independent music venues being threatened with closure .
"We need to protect our music venues and we fully support this bill.
"As we said at the time we may be saved for now but this is an on going issue for everyone."