Five things in Oxfordshire
Here are five stories from Oxfordshire which people have been clicking on this week.
1) 'Soup peddler' makes meals for homeless in Oxford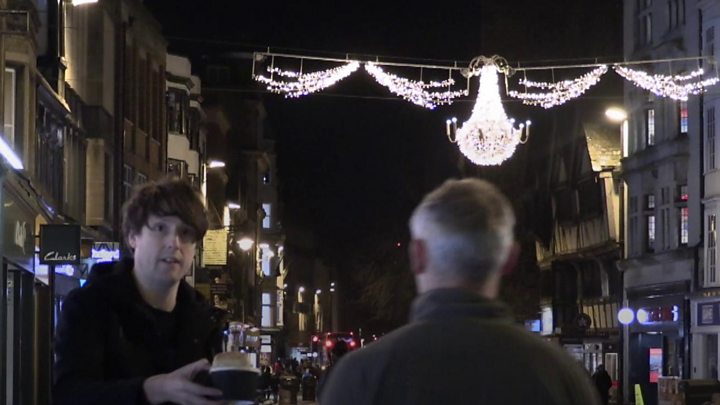 A man is providing free "hot and hearty" meals to the homeless from a catering tricycle.
"Soup peddler" Richard Brabin, 34, has been serving up to 60 people a night in Oxford with what he describes as a "wholesome bowl of soup".
The ingredients, equipment and upkeep of the tricycle have been paid for via crowdfunding.
2) Oxford MP Layla Moran calls for music venue protections
There needs to be a change in the law to better protect well-loved music venues, according to an Oxford MP.
Layla Moran, who represents Oxford West and Abingdon, says a "rethink" is needed after The Cellar, a venue in the city, came under threat.
A petition to keep it open gathered 13,000 signatures and the application was officially withdrawn in October.
3) Oxford City Council in row over homeless man's bedding
Oxford City Council was accused of "unforgivable" behaviour this week after it removed a rough sleeper's bedding and sleeping bag in Oxford.
Green councillor David Thomas said the man was left in a "dire" situation with no way of staying dry in wet weather on Tuesday.
But the council said the man told its street cleaning team he was happy for the items to be removed.
4) New GWR trains enter service after electrification
New trains have entered service between London and the Thames Valley following electrification work.
Great Western Railway's (GWR) electric Electrostar trains are operating from Didcot Parkway, Oxfordshire, and Reading, Berkshire, for the first time.
It said more seats will be available on the new trains, which are longer than the diesel ones used previously.
5) U's sign Reading defender Dickie
Oxford United have made their first signing of the January transfer window bringing in Rob Dickie from Reading for an undisclosed fee
The 21-year-old centre back spent the first half of this season on loan at Lincoln City, making 23 appearances in all competitions for the League Two club.
He has agreed a two-and-a-half-year contract at the Kassam Stadium.