'Rude' Oxford hospitals parking staff to undergo training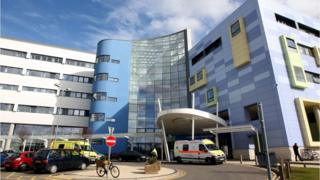 Car park staff at a hospital trust will go on training courses after patients complained about their rudeness.
Oxford University Hospitals NHS Foundation Trust said the "conflict resolution training" would help staff "deal with vulnerable people".
Trust non-executive director and vice-chairman Geoffrey Salt called the current situation "appalling".
Parking at the trust's site had been repeatedly criticised by patients.
Speaking at a trust board meeting, Mr Salt said visiting hospital was stressful enough, and the parking team needed to "learn to speak to people".
He added that patients were "coming onto the site because they're vulnerable in the first place".
'Very inefficient'
According to the report there have been three recent formal complaints, and four concerns raised with the trust's Patient Advice and Liaison Service.
It said: "Most often the issue will stem from the patient attempting to pay to leave the car park."
All members of the team must undergo the training if they have not already, and issues will continue to be monitored, it added.
Last March its chief executive said parking was organised "very inefficiently" at its sites and announced plans for five new multi-story car parks.
A trust spokesman said it apologised to any patients who had raised concerns, but that the complaints only reflected "a tiny percentage of the thousands of visits to our car parks".
He added: "As an organisation we are committed to learning lessons from any formal complaints made or issues raised with our Patient Advice and Liaison Service."