Oxfordshire County Council agrees £10m Carillion exit deal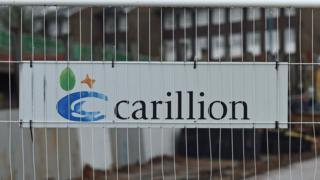 A contract with liquidated construction giant Carillion to carry out work in Oxfordshire has been terminated early.
The county council paid the firm £10.65m to cover work already completed and to bring the end of the contract forward from June this year.
Carillion provided school meals and cleaning, maintenance of council buildings, property services and building work.
It collapsed after losing money on big contracts and running up £1.5bn debts.
Following the collapse, firefighters were put on standby to deliver school meals in Oxfordshire, but ultimately they were not needed.
Oxfordshire County Council signed a 10-year contract with the firm in 2012, but last year agreed to transfer back most services except facilities management.
'Significant impact'
Lorraine Lindsay-Gale, cabinet member for property services, said: "This early exit deal means we can get on with finding better ways to deliver services that Carillion provided.
"We recognise the significant impact on local companies working for Carillion that may be owed money and hope that work can continue as soon as possible."
A spokesman said services previously provided by Carillion will continue through a mix of bringing staff in-house, continuing with suppliers, and working with existing sub-contractors.
He added that the council is currently working out the most cost-effective way to complete any work left unfinished.
In total the council will have paid about £148m to Carillion since 2012.