Anti-Brexit bus 'banned' from parking 'due to safety'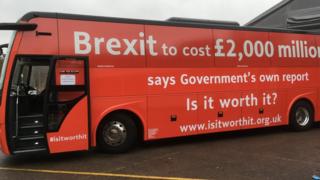 A council has issued a new explanation for why it is stopping an anti-Brexit bus from parking in a street in Oxford.
Oxfordshire County Council was accused of preventing free speech after it said no to a request for the "Brexit Facts Bus" to park in Broad Street.
On Wednesday it said the decision was taken because it "cannot permit political advertising on the highway".
However, in a new statement it said the reason was incorrect and was due to "traffic management and safety".
"The original reason given for refusal by the officer - the political advertising point - was wrong and it has been reviewed following legal advice," the council said.
Campaigners had wanted to park outside Balliol College in Oxford, which counts Foreign Secretary Boris Johnson - who campaigned for Britain to leave the EU - among its alumni.
The bus tour, organised by the "Is it worth it" campaign, started with stops in London on Wednesday and is visiting towns and cities across the UK until 28 February.
Oxfordshire County Council said there were "off-road locations" in Oxford city centre that would be suitable and were being explored.
Oxford For Europe has since posted on Facebook to say it would be parking in Bonn Square.