Blackbird Leys murder trial: Victim had 'more than 80 injuries'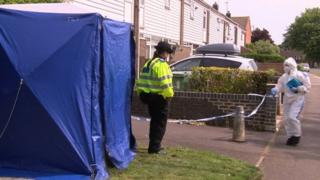 A man who died after he was attacked by a gang was found with more than 80 injuries, a court has heard.
Christopher Lemonius, 27, was found injured in Jourdain Road in Blackbird Leys Park, Oxford. He died in hospital.
A Home Office pathologist told the jury at Oxford Crown Court that 30 injuries inflicted on Mr Lemonius were to his head and neck and that one injury penetrated his skull.
Six men deny murder. Four others deny obstructing the police investigation.
Dr Alexander Kolar, the first witness in the trial, said he thought a sharp-edged object had been used in the attack.
He said weapons used could have been a machete or a heavy blunt weapon or another with a serrated edge.
Dr Kolar added Mr Lemonius suffered significant internal bleeding in his head and torso.
On Thursday, the jury heard previous violence in the area might have sparked the "determined" attack on 1 June.
Prosecutor Stuart Trimmer QC said there had been a confrontation between two groups in Blackbird Leys Park just before 23:00 BST, which led to Mr Lemonius being chased along with two friends by a larger group, before he became separated.
The court heard a car was driven at him by 27-year-old Yousef Koudoua, one of the men accused of his murder.
Mr Lemonius then ran down an alleyway and into a house where he was attacked by five men in the back garden. Witnesses said they heard shouts of "let's finish him off".
Those charged with murder, who are all from Oxford, are:
Yousef Koudoua, 27, of Balfour Road
Yasine Lamzini, 19, of Jourdain Road
Rashaun Stoute, 23, of Church Cowley Road
Connor Woodward, 24, of Haldene Road
Otman Lamzini, 24, of Jourdain Road
Carlos Spencer, 26, of Wynbush Road
Two defendants, a 17-year-old and Saffron Fakir, from Oxford, tried to cover up what had happened by hiding evidence, the prosecution alleges.
Both deny conspiracy to pervert the course of justice.
Allal and Yamina Lamzini, of Jourdain Road, Oxford, who were in their house at the time of the attack, deny doing acts tended or intended to pervert the course of justice.
The trial, which is expected to last for about 10 weeks, continues.