RAF Benson nurse who posed as teenage girl struck off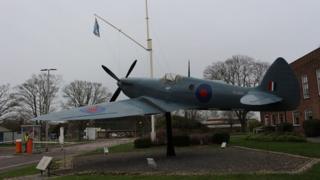 An RAF nurse who posed as a teenage girl online to obtain indecent images of children has been struck off.
Sqn Ldr Kevin Scrafton was convicted in November of offences involving the making and possession of child pornography and jailed for 18 months.
The Nursing and Midwifery Council (NMC) has now ruled his fitness to practice was impaired and that he had brought the profession into disrepute.
Scrafton accessed websites to share the images at RAF Benson in 2015 and 2016.
He also worked at Royal Centre for Defence Medicine, based at Queen Elizabeth Hospital in Birmingham.
Scrafton was arrested in November 2016 and admitted to police that he pretended to be a young girl online to engage in conversations.
He also created social media accounts under fictional aliases, using pictures of real people from photo sharing websites.
'Risk of repetition'
Following a police search a memory stick containing indecent images of children was found.
Scrafton was later convicted of two counts of making an indecent photograph of a child, and 15 counts of possession of an indecent image of a child, at Bulford Court Martial Centre, Wiltshire.
The NMC panel concluded that there was a "real risk of repetition".
It said: "Although Mr Scrafton admitted to having the images, he denied being sexually attracted to the victims and denied having the images for his own sexual gratification."
The panel also said it had received "no further evidence of insight into his behaviour, or of any remediation into his failings", which suggested a "harmful deep-seated personality or attitudinal problem".
It called the offences "extremely serious" and said its decision was necessary to protect the public.