Anglers want new reservoir for south-east 'immediately'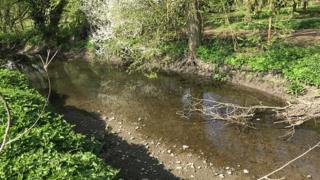 Investment in a new reservoir for the Thames Valley should start immediately to protect chalk streams, an angling group has said.
Thames Water is consulting on a water plan which proposes building a new reservoir near Abingdon in Oxfordshire by 2043.
But The Angling Trust said the blueprint was "woefully inadequate" and wants it built sooner.
It said chalk streams near London ran dry due to water abstraction in 2017.
The proposed reservoir between Steventon and Marcham would hold 150 million cubic metres of water and provide up to 66 million gallons (300 million litres) of water per day.
The Angling Trust said it would reduce Thames Water's reliance on abstractions from chalk aquifers which provide water for chalk streams.
Thames Water would like to build a new reservoir, but plans to spend the next 15 years focusing on reducing demand for water.
But the trust said this will not provide "the resilience required to manage water supplies" and Thames Water must invest in infrastructure and reduce leakage simultaneously.
In 2011 the government rejected a plan for a new reservoir near Abingdon and the new proposal has proved divisive again.
The Group Against Reservoir Development (Gard) has argued productive farmland would be lost, the risk of flooding would increase and other regions could supply the south east with water.
Meanwhile, The Campaign to Protect Rural England in Oxfordshire said Thames Water's estimates for population growth are too high and no reservoir would be needed if the company reduced water leakage.
Thames Water is consulting on its Draft Water Resources Management Plan until 29 April 2018.