Morse creator Colin Dexter remembered in Oxford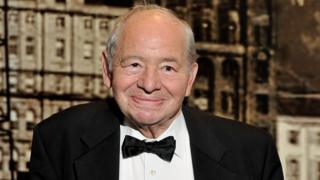 The life of Inspector Morse creator Colin Dexter has been celebrated with a cathedral service and civic reception in his hometown of Oxford.
The writer, whose 13 Morse books were set in the city, died last year age 86.
The Very Revd Professor Martyn Percy, who led the service at Christ Church Cathedral, said Colin Dexter was "an iconic figure" in Oxford.
He added it was "absolutely fitting" the cathedral opened its doors for the author's family and friends.
Mr Dexter wrote the first Morse novel, Last Bus to Woodstock, in 1975. The fictional detective was killed off in the final book, The Remorseful Day, in 1999.
The novels were adapted for the long-running ITV Inspector Morse series and his characters also featured in spin-off shows Lewis and Endeavour.
Crime writer Val McDermid, who attended the service, tweeted that Mr Dexter was a "good friend and the most unassuming of men... and much missed by all his friends and readers".
Actor Lawrence Fox, who played James Hathaway in Lewis, tweeted he was returning to Oxford "for the first time in a few years to remember the wonderful Colin Dexter".
Former Oxford City Council leader Bob Price said he had "contributed enormously" to people's understanding of Oxford and would be "deeply touched" by the service.
He described the author as "mischievous" and "very self-deprecating".
Endeavour actress Abigail Thaw, the daughter of Inspector Morse actor John Thaw, was also invited to the private service.
She said he was missed by the cast of the ITV show, which was "not quite the same without him".
Ms Thaw said he would often appear on set and take part in read-throughs and "contributed a lot" to Endeavour's development.
Mr Dexter was born in Stamford, Lincolnshire, in 1930 but lived in Oxford from 1966 until his death.
There are plans to build a statue of the author in Summertown, north Oxford, close to where he worked at the Oxford Examining Board between 1966 and 1988.