Call for public inquiry over Abingdon reservoir plan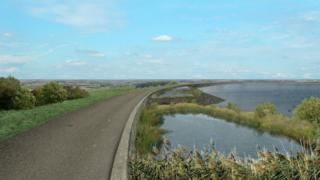 A public inquiry should be set up to examine plans for a new reservoir, an Oxfordshire authority has said.
Thames Water is proposing a 150 million-cubic metre reservoir near Abingdon as part of new proposals.
But Vale of White Horse District Council said it was concerned the company had not explored all options "in sufficient detail".
Leader Mathew Barber said councillors were "yet to be convinced" the proposed reservoir was necessary.
The reservoir between Steventon and Marcham would be larger than the town of Abingdon, the council said.
A previous proposal was rejected by the government in 2011, when the then secretary of state Caroline Spelman said there was "no immediate need".
The council said it wanted to see all of Thames Water's proposals, including the implications on local residents, roads, and the environment.
Oxfordshire County Council has also requested more information and the Group Against Reservoir Development opposes the plan.
However, The Angling Trust has publically expressed its support as it believes the reservoir could protect under-threat chalk streams.
Thames Water's consultation on its draft water resources management plan ends later.