Shropshire baby surgeons may move to Telford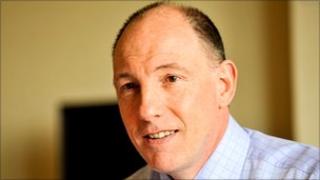 Maternity units staffed by surgeons will have to move from Shrewsbury to Telford, says Shropshire's NHS chief.
Adam Cairns said if they do not move consultants from Shrewsbury to Telford, the matter would be "taken out of our hands" by health regulators.
Residents are being asked for their opinions in a public consultation.
Mr Cairns, who heads the Shrewsbury and Telford Hospital NHS Trust, said: "The issues we face are genuinely really serious."
'Not perfect'
The trust will have to prove it can maintain all services if it is to become a foundation trust in 2014, as the government intends.
Consultant staff will move to Telford, and a new midwife-led unit will be built at Shrewsbury.
The Trust expects all recommendations put forward in the consultation to cost between £26 and £28m.
Mr Cairns added: "It isn't perfect. We don't pretend it's perfect, and there are unquestionably going to be issues for some people.
"We don't have two viable inpatient paediatric units. That's a fact."