Pick-up truck tips into water main hole in Shropshire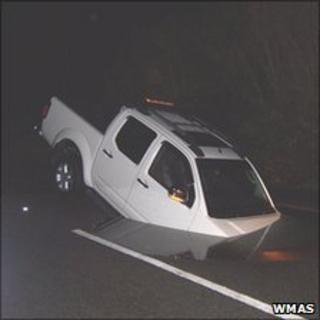 Three men escaped serious injury after unknowingly driving their pick-up truck into a massive water-filled hole caused by a burst water main in Shropshire.
Up to 2,000 properties had no water supplies and two schools were shut after the burst on Monday afternoon.
The men were driving on Patshull Road, in Albrighton when the vehicle suddenly tipped into the hole, leaving the rear wheels in the air.
One man, aged in his 20s, was taken to hospital with back and leg injuries.
A second man, also in his in 20s, suffered shoulder injuries and the third, aged in his 40s, cut his leg in the incident about 1850 GMT, ambulance crews said.
'Road obscured'
The men were able to get out of it without assistance but paramedics had to move their vehicles back as it was feared a second hole was starting to develop with water gushing up through the road.
Andrew Marsh, from Severn Trent, said two large, parallel mains burst on the A464 causing flooding - the first on Monday and the second at about 0400 GMT on Tuesday.
Supplies were diverted to help those home and businesses without water.
He said the water on the road obscured the fact there was a hole.
"Apparently when the flood happened after the first burst the road surface was obscured and it was quite hard to see the fact there was a hole.
"The pick up truck went down the hole.
"It was eventually dragged out by police at about 9pm last night."
'Odd glow'
A West Midlands Ambulance Service spokesman said: "The 4x4 pickup truck had been driving along the road when it came across the water filled hole and had no warning before driving straight into the hole.
"It was left at such an angle that the rear wheels were off the ground.
"Amazingly, the electrics continued to work leaving the lights on underwater, leaving an odd glow.
"In many respects it was fortunate that it was a large vehicle that went into the hole - had it been a small car, the whole vehicle might have been submerged and that could have led to a very different situation."
Severn Trent received about 200 calls, mainly from the Albrighton area, which was "a fraction" of those affected, Mr Marsh said.
"We would normally reckon on between 1-2,000 (affected) from 200 calls," he added.