'Ammonia' training exercise held at Whitchurch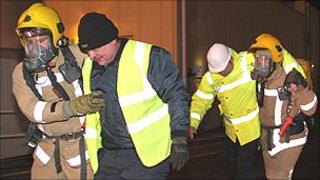 More than 50 firefighters have tested their skills in handling a serious chemical incident during a training exercise.
It was held at Grocontinental's food storage and distribution depot in Whitchurch Business Park, Shropshire.
Workers were "rescued" at the 25-acre site and firefighters isolated an "ammonia leak" in the initiative on Thursday evening.
A full decontamination exercise took place.
Firefighters from Whitchurch, Prees, Newport, Wellington and Tweedale were involved along with colleagues from Malpas in Cheshire.
The exercise was designed to test their response to hazardous materials, rescuing casualties, communications, incident command and inter-agency liaison.
Incident commanders and control room staff at Shrewsbury brigade HQ tested their communication and command skills.