Shropshire road still closed after hole fall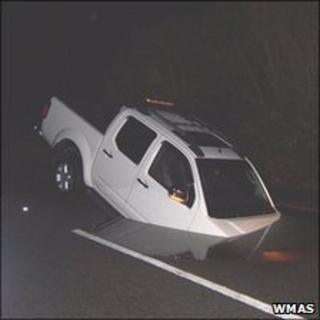 A road is expected to be closed until at least Wednesday following a burst water main which caused a hole that a pick-up truck drove into.
The A464 was closed near Albrighton, Shropshire, at the junction with Patshull Road on 7 March.
Three men were not seriously hurt after driving into the water-filled hole.
Shropshire Council said residents had water restored very quickly and it was in talks with Severn Trent Water over repairs.
Taken to hospital
It added engineers from the company were working "around the clock" to repair damage.
Severn Trent said the water on the road obscured the fact there was a hole.
One man in the vehicle, aged in his 20s, was taken to hospital with back and leg injuries, following the incident.
A second man, also in his in 20s, suffered shoulder injuries and the third, aged in his 40s, cut his leg.
Severn Trent said two large, parallel mains burst on the A464, causing flooding, the first on Monday and the second at about 0400 GMT on Tuesday.
Up to 2,000 properties had no water supplies.