Shrewsbury and Telford hospital consultation ends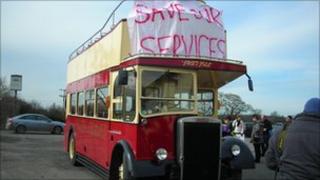 Public consultation on plans to reorganise hospital services in Shropshire ends on Monday.
To mark the last day of consultation health campaigners will deliver more than 15,000 signatures on petitions from across Shropshire and Mid Wales.
Under the NHS Trust's plans, children's and maternity services would move from the Royal Shrewsbury Hospital to the Princess Royal Hospital in Telford.
Protesters have said moving services would make them less accessible.
They have said it would mean patients from Shrewsbury and parts of Wales would have to travel further.
But the NHS Trust said the move would improve patient care.
It said the current situation was not viable because patient care was compromised and it could not afford to run paediatric services on two different sites.
Campaigners will travel to the primary care trust headquarters in Shrewsbury on an open top bus to present signatures from people from Montgomeryshire and west Shropshire.
People from other parts of Shropshire have collected another 20,000 signatures on further petitions against the plan.
'Huge impact'
Liberal Democrat Councillor Heather Kidd, who represents Chirbury and Worthen on Shropshire Council, will be on the bus.
She said: "The proposed changes to the services provided at the Royal Shrewsbury Hospital will have a huge impact on those living in the south of Shropshire.
"The problem for us in the south is that emergency access to hospital is very poor. If a pregnant women haemorrhages at home or has severe complications the outlook can be very bleak for her or the baby.
"The same holds true for children suffering severe asthma attacks or receiving cancer care. This extra distance to Telford is therefore a very significant issue and not safe."
Later this month the hospitals and the trust will consider the consultation feedback before reaching their decisions on the proposals.