'Trees and birds at risk' at Telford coal mine site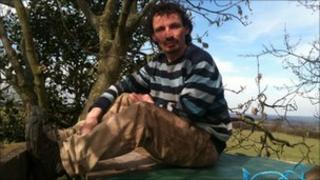 Nesting birds and ancient woodlands are being threatened by felling at the site of a planned opencast mine in Telford, campaigners have claimed.
Protesters began occupying two tree houses and a tent on the UK Coal site near the Wrekin in March 2010. They have now set up a second camp on site.
UK Coal was given permission for its mine in 2009, after a public inquiry.
It said it would evict the protesters and convert the tree-covered area into green fields when it closed the mine.
'Quite shocking'
Protester Ben Healey said: "UK Coal would like to cut the trees down here, but by living in it they can't really cut it down without first getting you out of it.
"A few days ago they came along with a bull dozer and some chain saws and felled a number of trees and destroyed probably a good acre of gorse and undergrowth, which was quite shocking considering that we are coming into bird nesting season."
UK Coal said the tree-felling had been carried out at New Works, near Lawley in Telford, under the supervision of a qualified ecologist.
Damaging a nest in use is a criminal offence under the Wildlife and Countryside Act 1981.
West Mercia Police said when it investigated it found no evidence that nesting birds had been harmed.