Shropshire road reopened after truck hole fall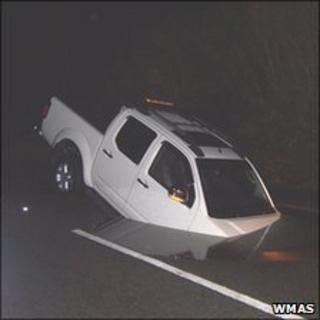 A road which was closed after a burst water main caused a hole that a pick-up truck drove into has reopened.
The A464 near Albrighton, Shropshire, at the junction with Patshull Road, was closed on 7 March after two large, parallel mains burst.
Three men suffered minor injuries after driving into the water-filled hole.
A spokeswoman from Shropshire Council said Severn Trent Water engineers worked "around-the-clock" to repair the damage and the road reopened on Friday.
It was closed for 12 days after the mains burst on 7 and 8 March leaving up to 2,000 properties with no water supplies.
Shropshire Council said residents had water restored very quickly.
Severn Trent said the water on the road obscured the fact there was a hole.
One man in the vehicle, aged in his 20s, was taken to hospital with back and leg injuries, following the incident.
A second man, also in his in 20s, suffered shoulder injuries and the third, aged in his 40s, had a cut to his leg.