Campaigners highlight Shrewsbury hospital issues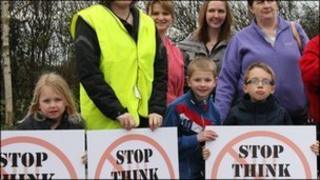 Campaigners have linked arms at the Royal Shrewsbury Hospital to show their support for keeping children's and maternity services there.
Hospital board members are due to decide on Thursday whether the facilities should be moved to the Princess Royal Hospital in Telford.
Campaigners linked arms on Sunday afternoon in the initiative attended by doctors, parents and children.
The NHS trust has said the move will improve patient care.
'Very concerned'
It says it cannot afford to run paediatric services on two sites.
More than 15,000 people from across Shropshire and Mid Wales have signed petitions opposing the changes.
Campaigners say moving services would make them less accessible and would mean patients from Shrewsbury and parts of Wales travelling further.
Dr Wendy Tyler, a consultant at the Royal Shrewsbury Hospital, said: "I've stood up on a number of meetings.
"We're very concerned that the women's and children's and newborn services are being moved away from the centre of our catchment population to the far east of the county."