Church service for injured girl Grace Currie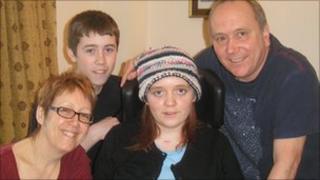 The family of a Shropshire girl seriously injured in a road collision is taking part in a special church service six months on.
Grace Currie, 17, from Bagley was in a coma for six weeks after she was hit by a car while crossing a road in Baschurch on 27 September last year.
Her mother Lorraine Currie said Grace spent six weeks in intensive care where her life "hung by a thread".
A service will be held on Sunday in Baschurch and a stone cairn built.
Helium balloons
Mrs Currie and her husband Graeme said their Christian faith had helped them through the difficult time.
Friends and family will attend the service at All Saints Church in Baschurch on Sunday.
They will then arrange stones in a pile, or cairn, at the place where the accident happened before releasing a number of helium balloons.
Mrs Currie said: "We want to do it in Baschurch, the place where we lost everything until the Lord gave it back to us."
Grace was resuscitated twice following the crash.
Mrs Currie said they did not know if she had misjudged crossing the road, or whether she was distracted.
After spending six weeks in intensive care, she was transferred to a neuro special care ward, before moving to a rehabilitation unit at the Haywood Hospital in Stoke-on-Trent in December.
The 17-year-old can now speak a few words, but Mrs Currie added that doctors could not predict how complete her daughter's recovery would be.
"We know that incredible healing takes place due to the skill of the doctors and nurses involved in her care and we also know that Jesus is the great physician," Mrs Currie said.