BBC School Report in Shropshire 2011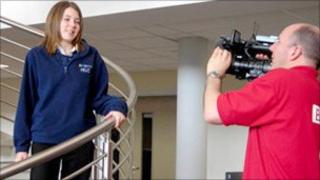 Pupils from seven schools across Shropshire are preparing to investigate stories important to them as part of the 2011 BBC News School Report Day.
Belvidere School, Idsall School, Lacon Childe School, Oswestry School, Marches School, Adams Grammar, and Wrockwardine Wood Arts College are all taking part.
The pupils, aged 11-14, will publishing their stories online on 24 March.
The aim is to engage young people in the news and bring their stories to a wider audience.
Oswestry School English teacher Alan Biles-Liddell said the project also showed pupils how skills gained in lessons could be applied to jobs in the outside world.
Thousands of pupils from hundreds of school across the country take part in the annual News Day.
In the past, issues such as cyber bullying, obesity, the Haiti earthquake, preparations for the Olympics and fashion have been among the reports put together by pupils across the country.
This year BBC Shropshire will be particularly following the preparations and production of news stories at Idsall School in Shifnal.