A Shropshire nurse teaches trauma care to Afghan nurses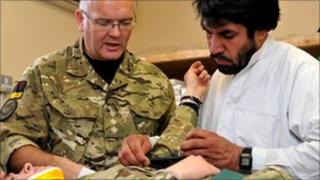 A Shropshire nurse, serving in Afghanistan, has been sharing his skills with Afghan nurses.
Capt Robert Garbett, a senior nurse at Telford's Princess Royal Hospital and a member of the Territorial Army, focuses on initial care of trauma patients.
He said it was one of the most exciting experiences of his Army career: "We're leaving something behind... hopefully something that's long lasting."
The 48-year-old is based in Lashkar Gah, Helmand Province.
Control bleeding
Capt Garbett has been in Afghanistan for the past six months and returns to his normal life in Shropshire in April.
Skills he has been teaching Afghan nurses include the management of patients' airways, supporting breathing and controlling bleeding.
Capt Garbett's primary role in Afghanistan has been the care of troops with the International Security Assistance Force (ISAF) and other staff at his base.
He has also treated local Afghan people, injured in the provinces.
The aim of training Afghan nurses has been to improve support for patients being transferred to hospital.
But Capt Garbett felt the skills would be of wider use: "These skills are the ones they'll be able to use should, God forbid, something happen on the ground in the local area as well."