Shrewsbury mental health village to replace Shelton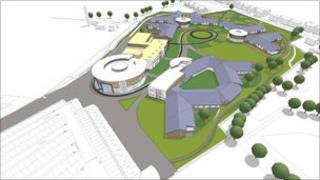 Work has started to build a £46m new mental health "village" in Shropshire.
The new site will replace Shrewsbury's Shelton hospital, which was originally built as a Victorian asylum in 1845.
The new mental health "village" is being built next to Shelton hospital and is expected to open in 2012.
Andrew Hughes, project manager for South Staffordshire and Shropshire Healthcare NHS Foundation Trust, said the village would be "more tailor-made to 21st Century healthcare".
Neil Carr, chief executive of the trust, said there would also be a greater emphasis on community treatment, with in-patient care at the new hospital "a last resort".
Mr Carr said the trust would recruit an additional 88 staff to provide treatment in the community, 24 of which could redeployed from current ward staff.
The new building will have 97 beds, including 23 in a secure unit, 46 fewer than the current Shelton hospital.