MPs want a direct rail link from Shropshire to London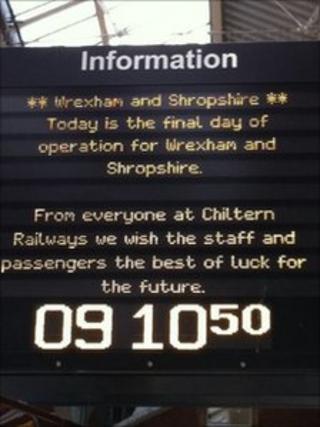 Shropshire's five MPs will be meeting managers at Virgin Trains on Thursday in an attempt to get a direct rail link between the county and London restored.
On Wednesday they met Transport Minister Theresa Villiers to try to persuade her to support the proposal.
They want a service from Shropshire to London included in timetable for the West Coast Mainline, which is due for renewal.
The last direct rail link stopped running in January.
'Sad demise'
It was operated by Wrexham & Shropshire which ceased trading after the firm said passenger numbers fell.
Virgin Trains has said consultations are being held over the West Coast Rail franchise, which could operate in Shropshire.
David Wright, the Labour MP for Telford, said: "The removal of the Wrexham & Shropshire service, its sad demise, was a real blow to Shropshire and North Wales.
"What we've been saying is this is too big a county to be without a direct rail service to London.
"We've got three big urban centres that have lost that direct service in Telford, Shrewsbury and Wrexham and we're a big rural area too - people need access to train services down to the capital."
Earlier this month a new 10-year franchise for the West Coast Mainline was approved.
The approval paves the way for improved services on the key London to Scotland route, with plans to develop a revised West Coast timetable from December 2013.