Shropshire councils receive extra £4m to fix potholes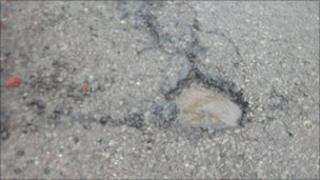 Shropshire councils have been given more than £4m to fix county potholes.
A £200m national fund was announced as part of the government's budget statement on Wednesday.
Shropshire Council will receive £3.6m, while Telford and Wrekin Council will get more than £600,000.
Telford and Wrekin Council said the sum was "more than we expected" and that they had already started to identify the worst areas.
The council said the money would be used to resurface sections of road, as well as patch up the individual potholes.
The latest money is in addition to a £100m national fund made available by the Department for Transport in February.