Severn Valley Railway reopens after engineering work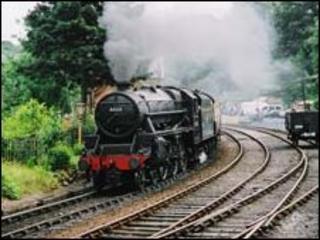 The Severn Valley Railway has fully reopened to visitors after nearly two months of engineering work.
The 16-mile route runs between Bewdley in Worcestershire and Brignorth in Shropshire but part of it has been closed due to repair work.
Staff have been repairing and replacing the tracks at Arley in Worcestershire and restoring the waterproof membrane on the viaduct by Bewdley.
Six tonnes of copper were stolen from the Bridgnorth site in January.
At the time of the incident, police described the theft as "audacious" after thieves apparently broke in at night and hot-wired a crane to take the metal from the boiler works.