Church charity abseil delayed due to peregrine falcons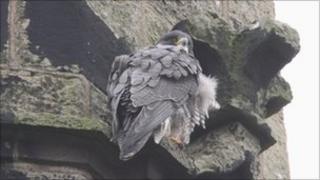 A charity abseil event at a Shropshire church had to be postponed because of a pair of peregrine falcons.
Seventy people were due to abseil down the tower at St Mary's Church in Shrewsbury last weekend to raise funds for the Churches Conservation Trust.
However falcons have been seen roosting and feeding on the tower, and concerns were raised the birds may be nesting.
The charity has now rearranged its event for 16 July, by which time any chicks will have fledged.
Claire Coles, Community Fundraising Officer at the Churches Conservation Trust, said they wanted to give the birds plenty of time to nest without disturbance.
A pair of peregrine falcons, thought to be the same ones, have also been seen on the tower at St Alkmund's Church in Shrewsbury.
John Hughes from Shropshire Wildlife Trust said they had put a nest box on the church roof at St Alkmund's in the hope the birds would nest there.
'They like churches'
Peregrine falcons nest on cliff faces, but in urban areas they have taken to nesting on churches.
Mr Hughes said: "They never were a bird of urban areas, but over the last decade or so they've become much more prevalent - particularly on churches - they like churches.
"We don't have any cliff faces here, but what we do have are these big tall buildings that look like cliff faces - so they choose to nest on what they consider to be a cliff face," he said.
Mr Hughes added: "These buildings absorb the heat of the sun and they're like big storage heaters, so they stay nice and warm."