Shropshire's court closures 'blow' to community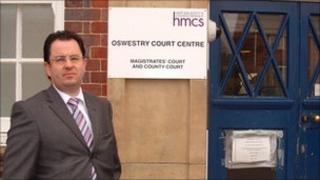 Court officials have criticised the closure of three magistrates' courts in Shropshire this week.
Ludlow Magistrates' Court closed on Monday and Oswestry Magistrates' Court closed on Tuesday.
Market Drayton Magistrates' Court will close on Wednesday while Oswestry, Ludlow and Shrewsbury's county courts will close later this year.
The Shrewsbury and North Shropshire Bench said the closures would "have an adverse impact on court users".
In a statement read out by the presiding court chairman at Oswestry Magistrates Court, John Abram said: "Shrewsbury and North Shropshire Magistrates regret this severe blow to the principle of community summary justice."
'Sad day'
The government said the closure of 93 courts in England and Wales would mean a "better, more efficient and more modern" system of justice.
Savings are estimated at £15m in running costs and £22m in maintenance.
But Mr Abram said in response to consultation the bench had expressed its concern that closure would have a "significant impact" on the people of Oswestry in terms of access to justice.
Criminal defence lawyer Alun Williams, who has been representing people in Oswestry for 11 years, said: "You're going to have the problem of not seeing local justice because it's integral to the magistrates' service that people are dealt with by their local magistracy.
"I don't think all administrative functions can be driven by cost."
Peter Eardley, a magistrate in Market Drayton for the last 25 years, said: "It's a sad day but we've got to be positive and realise the constraints we're operating in in this current economic climate."
But he added: "It's another facility that's gone from out of the town."