Shrewsbury libraries to be 'under one roof'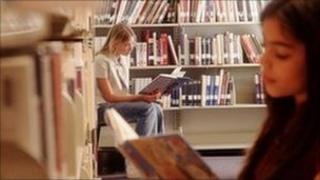 Shrewsbury's reference library is to move into the town's lending library to bring both services together on the same site.
Shropshire Council said the move was part of a "wider approach" to transforming public services.
Both libraries will close at 2000 BST on 28 April to allow building alterations to take place.
The new integrated reference and lending service in Shrewsbury Library will then open at 0930 BST on 10 May.
A council spokesman said during the closures, a core collection of items from the reference library would be transferred to Shrewsbury Library, including reference books, newspapers and magazines.
A total of 16 computers would also be transferred, meaning that 26 computers would be available for public use, and wi-fi would also be installed.
He said to ensure the changes had a limited impact, customers would be able to take out books for an extended period.
They would also still be able to return books at Shrewsbury Library and would be able to borrow books at any other library in Shropshire.
The council has said it is currently exploring options for the future of the reference library building.