Shropshire's rural churches promoted with tourism map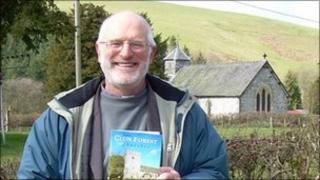 A tourism map has been published to promote a group of 27 churches in a rural part of Shropshire.
The leaflet suggests tours across the Clun Forest Deanery and includes the grave of England's last "sin-eater".
The Reverend Norman Morris said most of the churches had received English Heritage and Lottery funding.
Sin-eaters were generally poor people paid to eat bread and drink beer or wine over a corpse, in the belief they would take on the sins of the deceased.
He said: "They're all beautifully cared for... a lot of people like the peace and quiet."
Mr Morris, who is responsible for nine churches in the guide, said that with public money going into country churches, the tourism guide was one way to encourage people to visit them.
'Unorthodox practice'
The minister said the Clun Forest Deanery was a "wonderful" area and more than half the churches in the guide were Grade I or Grade II listed.
The leaflet highlights historic detail including a 2,500-year-old yew tree in Norbury churchyard, a 12th Century font in Snead and 21st Century stained glass in Clunbury.
It also mentions a monument at St Margaret's Church in Ratlinghope dedicated to Richard Munslow, believed to be England's last "sin-eater".
Rev Morris said "sin-eating" was an "unorthodox practice" that would usually have been conducted in the event of a sudden death.
The guide will be officially launched at the pub in Wentnor on Monday, 11 April.