Wrekin Museum Partnership look for support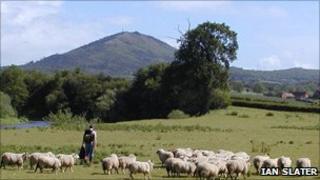 Campaigners planning a museum dedicated to Shropshire's Wrekin hill say they have hit a stumbling block.
The Wrekin Museum Partnership was set up in 2007 to celebrate one of the county's most famous landmarks.
A possible site for the museum has been identified in nearby Wellington town centre, but the group say they need help to put forward a business case.
The group said they hoped to convince Telford and Wrekin Council their plans were sustainable.
Joanna Deakin, from the partnership, said the group was looking for someone with business experience to come forward and help them.
Some 80,000 visitors are estimated to climb the hill every year and the partnership believe a museum could prove popular.
'Sense of place'
Ms Deakin said the museum would illustrate the Wrekin's history, covering almost 600 million years.
She said a museum dedicated to the hill could also offer people a "sense of place".
"A lot of people have moved into the area with the development of Telford and a lot of people don't feel they have roots here," Ms Deakin said.
Anyone wishing to support the museum project can contact the partnership through their website.