Police awards for Shrewsbury gas explosion rescue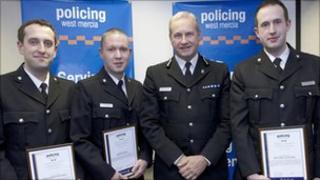 Eleven police officers have been given awards for their work in the aftermath of a gas explosion in Shrewsbury last year that injured 12 people.
Flats and a restaurant on the corner of Bridge Street were destroyed in the explosion and fire in January 2010.
The Health and Safety Executive (HSE) has said no-one can be blamed for gas igniting from a fractured pipe.
Three officers were honoured for helping rescue people trapped in rubble and quick thinking at the scene.
Flying masonry
West Mercia Pcs Simon Lewis, Ben Hocking and Mike Dulson have received chief constable commendations and eight other officers were given territorial commendations.
The corrosive nature of the ground soil and pressures from a nearby brick wall and telecom unit may have caused a fracture in the cast iron mains pipe, the HSE said in its report.
Six of the 12 people hurt in the blast suffered serious injuries, they added.
Some people in the flats were either thrown from the building or buried in debris.
Two others were badly injured when hit by flying masonry in the nearby car park of the Shrewsbury Hotel.
The force said Mr Lewis and Mr Hocking were rewarded for showing "courage and selflessness" for helping save the life of a woman trapped in the rubble.
They were near the scene at the time and rescued the woman as 30ft (9.1m) flames flared up from the nearby ruptured pipe.
Mr Hocking used a fire extinguisher to cool the area while his colleague moved the rubble, the spokesman added.
Mr Dulson rescued and helped other casualties and kept members of the public away over fears of a second explosion.
He checked nearby premises to ensure people were not inside and at further risk from harm.
"Without doubt, he demonstrated professionalism and a pure sense of duty," the force said.