Cellist wins Shropshire concerto competition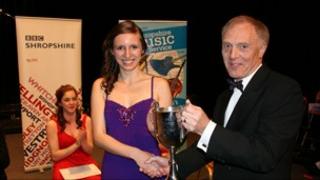 Cellist Rosie Powell Davies has won the 2011 Shropshire Young Musician of the Year concerto competition.
The 18-year-old, a pupil at Shrewsbury High School, was named the winner on Wednesday night, for her performance of Lalo's Cello Concerto in D Minor.
Miss Davies said she felt "a little shocked" by the decision, but that playing in the 2010 final had helped.
The annual competition was held at Shrewsbury's Theatre Severn, in front of a packed audience.
The finalists were accompanied by the Shropshire Sinfonia, conducted by Robert Wysome.
Miss Davies recently took part in a masterclass with world-renowned cellist Julian Lloyd Webber and has been offered a place to study music at New College, Oxford.
In summing up, the adjudicator Professor George Caird also praised the other three finalists, James Carter, 17, Freya Little, 17, and 16-year-old Holly Scutt.