Farm fire threatened Shropshire woman's home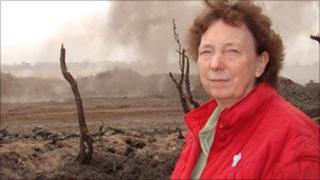 A woman from Shropshire feared her home would be engulfed as a farm fire raged in a field close by.
An investigation has begun into the cause of the fire which destroyed a 2,200 tonne stack of elephant grass at Sutton Farm, Woodseaves, near Market Drayton.
Margaret Gibbons, whose garden borders the farm, praised fire crews who prevented the flames from spreading.
Firefighters said they had seen two men running away from the scene.
Mrs Gibbons said she felt lucky to be alive after the fire which started on Thursday afternoon.
"If it had happened in the night I wouldn't be here now... It was terrifying," she said.
"All I could see from the conservatory was just a wall of flame.
"The hedge was alight behind my summerhouse, so if that had carried on burning around the corner it would have taken the house."
She described how her plastic-fronted apron crackled in the heat as she walked down her driveway and saw the paint peel away from the signpost near her house.
Mrs Gibbons was so shocked by what had happened that paramedics were called to treat her.
Roger Smith, watch manager at Market Drayton, said the fire had been treated as a major incident and six pumps had been in attendance at the height of the blaze.
"When we arrived it was well alight from end to end. Obviously our priority then was to help prevent the fire spreading to adjacent properties, garages etc in the close vicinity of the major fire," he said.
"We are clearing up and damping down and making sure that everything is safe."