Thieves steal 'sentimental items' from Telford home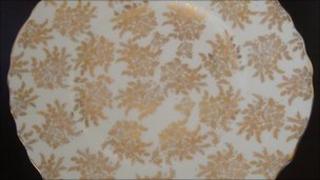 Thieves broke into an elderly woman's Telford home as she slept and stole a number of "sentimental items".
A tea set which had been handed down through the generations of her family and a silver cruet set given to her by her late husband were taken.
Police said the break-in happened overnight from 15 to 16 April in Dallamoor, in Hollinswood.
A spokesman said offenders had forced their way into the property through a downstairs window.
The tea set, which was made by Royal Vale, included six saucers, six plates and four teacups - two of the tea cups were left behind.
The silver salt and pepper pot set with a mustard pot, all in a presentation box, was a 25th wedding anniversary present.
The woman's handbag and purse were also stolen but he said the handbag was later discovered in a nearby alleyway.
Det Con Ian Benjamin asked anyone with any information to come forward.