Wellington campaigners demand return of town clock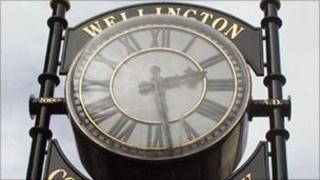 A group of residents in Wellington is demanding the return of the town's community clock.
They have pledged to attend a meeting of the town's annual assembly at Wellington Civic Centre later.
Despite objections from local people the clock was removed some weeks ago when work began to repave the square.
The clock had been put up in Market Square in the town as part of the millenium celebrations.
It cost £10,000 and was partly paid for by public subscription.
Local historian George Evans has put a proposition foward to tonight's meeting asking that the clock be replaced in its orginal position.
"The town council wanted to de-clutter Market Square. It's a very good idea. We could have space for parties and assemblies.
"Various things have been removed. One of those was the clock. One thing we, the majority of the people of Wellington, want is the clock to go back," Mr Evans said.
Online campaign
Wellington resident, Peter Jones, started an online campaign to save the clock and a petition attracted more than 200 supporters in a few days.
On another occasion nearly 1,000 people signed the petition in Market Square.
"The clock gives us a sense of civic pride. Market towns are struggling at the moment.
"People see it as 'my clock'. Some subscribed to it as a memorial to people they had lost," he said.
Mr Jones said the clock was part of the square and was featured in brochures about the town.
He is urging people who support the return of the clock to the Market Square to come to the meeting.