Former RAF photographers seek missing Shropshire friend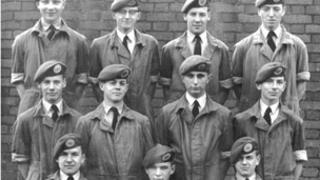 A group of people who trained as photographers at RAF Cosford in Shropshire 50 years ago are trying to trace their final member.
John Lewis, who is organising a reunion is trying to find the final member of the 43rd boy entrant course who remains unaccounted for.
He believes Dudley Ward, who was born in Shrewsbury, may still have family in the area.
Mr Lewis said he hoped to find his former colleague before the reunion.
"The last time I saw him was in Cyprus when I took over from him as an RAF photographer. I was based at Akrotiri," Mr Lewis said.
Mr Lewis said he had accounted for 10 of the 11 members of the course who were all aged 15 or 16 when they joined the RAF.
He said he and another member of the group, Bill Marshall, had decided to celebrate the 50th anniversary of their course and three years ago had started looking for the others.
"We believe Dudley Ward's father was was involved in the antiques business in Shrewsbury," he said.
"There is a good chance he went home after the RAF or still has relatives in the area."
Mr Lewis said all the former members were all in their 60s now and he had not met up with some of them since the end of the course in December 1961.
He said he was hoping to find Mr Ward before the group met at the cafe outside Cosford railway station on 4 June.