Shropshire brides have their day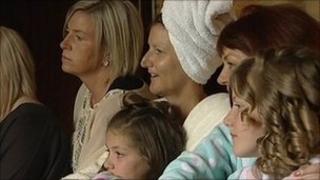 Wellwishers across Shropshire have been celebrating throughout the day as more wedding services followed the Royal event.
Caroline Chadwick and her husband Trevor Bedsore got married at the Hadley Court Park Hotel in Shropshire, after first watching the royal wedding.
Miss Chadwick said she got up at 0645 BST to watch the ceremony before getting ready.
She said earlier she would be watching until they appeared on the balcony.
The couple took advantage of a hotel offer, in which anyone called Will or Kate would get a free wedding.
'Last minute'
No-one came forward except Ms Chadwick, who, while not called Kate or Catherine, asked if she may be allowed to book her wedding if no-one else came forward.
Before the ceremony she said she was beginning to get nervous.
"But we have been together for 18 years and we just thought, 'why not?'," she said.
Also getting married were Rachel Jones, who wed Jordan Powell at Cumbermere Abbey, near Whitchurch, and Zoe Taylor who was getting married at 1500 GMT at Baschurch to Jamie Doran.
Miss Taylor said she spent the day before her wedding getting her dress.
"I like to leave it to the last minute," she said.