Scout leader's canoe centre tribute opens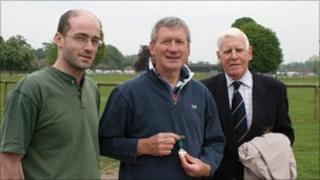 A kayaking and canoeing centre has been opened in memory of a scout leader who died suddenly.
Andy Miles, who was 48, was taking part in a summer camp in July 2009 when he had a fatal heart attack.
His family and the Scout Association raised money to establish the centre which is to be used for the first time over the weekend of 7 and 8 May.
The new building is at the West Mid Showground in Shrewsbury.
Mr Miles, who was an Explorer Scout Leader with the 1st Edgmond Scout Group, had been taking part in a camp at Bickley Coppice in Shropshire when he was taken ill.
Despite the efforts of his colleagues, including Richard Bruce, the Deputy County Commissioner for Shropshire, he died at the site.
Mr Bruce and his colleague, Alan Stewart, have been given Meritorious Awards by the Chief Scout in recognition of their attempt to save Mr Miles.
'Improved their lives'
His father, John Miles, said his son had been dedicated to helping young people.
"You couldn't have wished for a better guy," he said.
"He was very keen on the support of young people and improving their lives. That's why he became a scout leader."
Mr Bruce said that in the past, the scouts' kayaks and canoes had been kept on a farm and had to be transported to the river. He added that the new centre would be a "big improvement".
"Because we've got access to other parts of the showground it means we can camp here," Mr Bruce said.
"We're hoping this will become what we're calling a centre of excellence for kayaking and canoeing in Shropshire, open to all the young people in scouting, guiding and elsewhere."
Archie McPherson, the scouts' county canoes advisor for Shropshire, said the new centre would make it easier for scouts based in the south of the county to access water sports.
"Kayaking is one of the most popular things that is being asked for at this weekend event," he said.