Sheep lookerers needed for rare breeds in Severn Gorge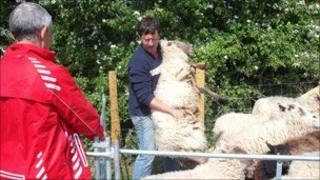 Volunteers are needed for a "sheep lookering" scheme in the Severn Gorge.
Lookerers learn to check the animals over and recognise any health problems which may arise.
The aim is to help preserve rare breeds of sheep which live on the pasture managed by the Severn Gorge Countryside Trust.
It is one of many volunteering programmes run by the trust which manages 260 hectares of land within the Ironbridge Gorge World Heritage Site.
Farmer Rob Littlehales keeps his rare breed stock in the gorge. He has Llanwenogs and Hill Radnor sheep and is hoping to increase his flock.
He said the lookerers checked the sheep daily.
"As the year has progressed, their knowledge has just gained and gained. Initially you would be getting phone calls 'this ewe's a bit lame'.
"Once they realise what caused it and... they are able to work out whether it's something that needs to be acted on now or whether it's something that can wait for normal checks. We are learning as much they are learning," he said.
"As the owner of the stock I feel quite confident day to day that the lookerers are more than capable of keeping an eye on them and they are extremely good at reporting if there are any issues," he added.
Volunteer Brian Wakely said: "I became involved in the lookerers scheme about a year ago. It was an offer to do something practical with the sheep that graze on the pastures of the gorge."
The manager of the trust, Russell Rowley, said the gorge was part of a 10-year High Level Stewardship Scheme with Natural England.
He runs the volunteering programme at the trust: "It gets people learning everything from how to lay hedges to building boardwalks," he said.