Naturalist hunts for elusive pine marten in Shropshire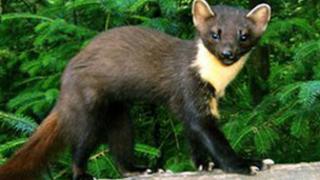 A Shropshire naturalist and photographer is hoping to find evidence that the elusive pine marten is living in the county.
Stuart Edmunds believes there may be some in woodlands where prey is abundant .
He is hoping local people will help him carry out a survey to locate them.
Mr Edmunds has filmed otters and badgers in Shropshire and is hoping that he will be able to film pine martens in the wild.
He said the pine marten, which eats small birds, eggs and berries and is the size of a domestic cat, lives up trees, making it hard to spot.
"It has a very dark coat and is very easily mistaken for polecats and stoats. It has very prominent ears and a bib, a cream neck marking," he said.
'Parma violet smell'
He has identified The Wrekin as one of several possible sites for the animal to be living and hopes people will look out for them.
"The only way to find out is to get as many people as possible, knowing what they look like, to report them when they do see them," he said.
Mr Edmunds said because pine martens were so difficult to see one of the best ways of identifying them was through their droppings, which can be analysed for DNA.
A way of distinguishing the droppings, or scat, is through smell.
"They smell quite nice. They've actually been compared to the smell of parma violets sweets," Mr Edmunds said.
He admitted the search would be like "looking for a needle in a haystack".
"It would be an important breakthrough.
"It would show that in spite of all the damage we might have done to the countryside that animals can still adapt and move into different kinds of habitats if the prey is there for them," he said.