Funds plea to fight Shrewsbury incinerator plans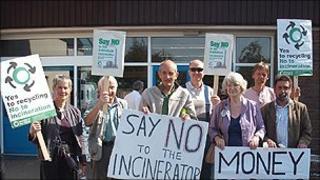 Friends of the Earth has launched a fundraising appeal to fight plans for a waste incinerator in Shrewsbury.
Plans for the £60m incinerator on Battlefield Enterprise Park were rejected by Shropshire Council last September.
But Veolia, the company behind the plans, is to appeal against the decision and a public inquiry will be held later this year.
Friends of the Earth said it is concerned about the environment.
Spokesman for the Shrewsbury branch, Dave Green, said the incinerator was not needed and the group now needed to pay for experts to help fight the proposals.
"We're a relatively small group who survive on peanuts...," he said.
"We're not employing expensive barristers but we are getting in national renowned experts and we need costs to cover them."
Veollia has said it believed it had a "strong" application to get the decision overturned.