Telford and Wrekin Council's new leader chosen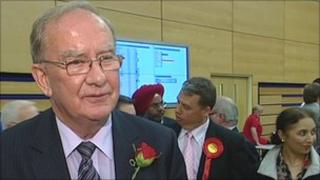 A new Labour leader and deputy have been chosen for the top posts at Telford and Wrekin Council.
Councillor Kuldip Sahota will be the new leader and Richard Overton will be his deputy, replacing Charles Smith.
The Labour group, which won control of the authority on 5 May, voted to replace its previous leader, Keith Austin, at a meeting over the weekend.
It comes after Mr Austin told BBC News he was "over the moon" with the election results.
Mr Austin became leader of the Labour group in 2004 and prior to that he was deputy leader.
He said he had been a councillor for 30 years, about 20 of which had been spent as a deputy or group leader.
But the party has now decided to go for a change of direction.
Mr Sahota has lived in the area for more than 40 years.
He will have his position as leader of the authority confirmed at the end of the month but has already taken up his position as leader of the group.
'Difficult job'
Mr Austin said he was disappointed not to have been re-elected at the group's AGM.
He said: "It's not exactly come as a surprise, I suppose people felt like a change.
"On a personal level I'm slightly disappointed but Kuldip is an excellent choice.
"It's been a difficult job over the last few years because we had a slim majority."