Lightning strike damages roof of Bayston Hill home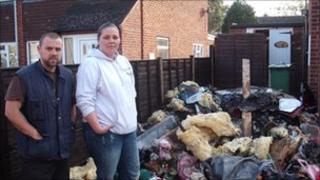 A house in Shropshire was badly damaged when it was hit by lightning.
Keelie and Scott Caudwell were at home with their two children in Bayston Hill, near Shrewsbury, when the bolt struck at about 2345 BST on Monday.
Mrs Caudwell said: "I saw this almighty white light and every hair on my body stood up on end."
She said she had smelled "something like party poppers" and had seen neighbours shouting at them to get out as their roof was on fire.
"I was quite disorientated, I sat filling up the bath and I put towels in thinking I could put something out," the 30-year-old added.
"You tried to send me into the loft to try to save the day," Mr Caudwell, 34, said.
'Get the kids'
He had been lying in bed trying to sleep.
He said: "The flash was so bright I could see it through my eyelids.
"There was a massive booming crashing noise that came with it, Keelie came in and we could smell burning.
"We were rushing to get the kids together. We had to wake them up, luckily they weren't as traumatised as we were."
The lightning strike blew a hole in the roof of their semi-detached home in Mayfield Grove, but no-one was hurt.
The couple are now looking for somewhere to stay while their house is repaired.
"I am going to go down to the council and see what's what with the insurance and see if they will repair it, and if they won't I will go begging," Mrs Caudwell said.