Royal Shrewsbury Hospital cancer centre plans unveiled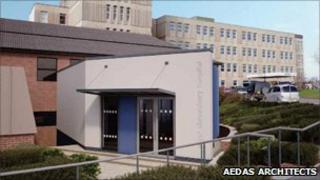 Plans for a new £5m cancer centre at the Royal Shrewsbury Hospital have been unveiled.
The centre includes a new reception area and outpatient unit for haematology and oncology patients.
A day unit for chemotherapy and head and neck cancer patients is also planned. Work will start in the summer.
The development has been funded by charitable donations, including more than £3m from the Lingen Davies Cancer Centre Appeal.
Julia Clarke, chairwoman of the centre development project board, said patients would see a big improvement, with haematology care currently "provided out of very cramped accommodation".
Ms Clarke said the new unit would cover about 25,000 appointments a year.
Two competitions have also been launched, which will be open to the public - one to design artwork to be displayed in the new building and the other to come up with a name for the centre.
Ms Clarke said: "We are really excited about the development of the cancer and haematology centre.
"We are grateful to everyone who has shared their ideas and helped to shape the building and are looking forward to work starting."