Police praised for Osbaston House mansion deaths case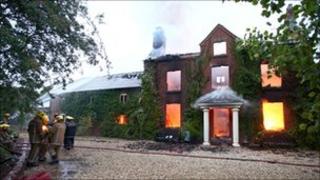 Officers investigating the double murder and suicide of a millionaire businessman's family in Shropshire have been commended for their work.
Christopher Foster had £4m debts when he murdered his wife Jill and 15-year-old daughter Kirstie on 26 August 2008.
The 50-year-old then set fire to their £1.2m estate and killed himself.
Five forensics officers have been commended for recovering the family's bodies from the burnt-out ruins of Osbaston House, near Maesbrook.
West Mercia Police said the five investigators had spent 37 days in extremely hazardous conditions on their hands and knees, sifting through 40 tonnes of rubble.
Positive identifications
Det Ch Insp Jon Groves said: "The tragic nature of this crime significantly affected the members of the team.
"They maintained their professionalism throughout the examination which resulted in the discovery of the remains of all the Foster family."
Four dogs and three horses were also found shot dead in the house and outbuildings on the 16-acre estate.
Mr Groves said the team's work had led to positive identifications of the family and was of vital importance to the Fosters' relatives.
The Chief Superintendent's Commendations have been given to forensic investigators Kevin Furlong and Christopher Speake, based in Shrewsbury, Carol Cannell from Malinsgate police station, Telford, and former West Mercia investigator Dominic Black.
Senior forensic investigator Paul Beeton, based in Shrewsbury, received the Chief Constable's Commendation for his leadership and resilience as the crime scene manager.