Wellington clock 'should be returned'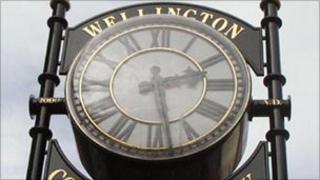 The new Labour administration on Telford and Wrekin Council has called for Wellington's town clock to be reinstalled in its Market Square home.
Despite objections from residents, the clock was removed some weeks ago when work began to repave the square.
Wellington Town Council had planned to move it near the town's civic quarter, currently under construction.
A petition demanding the clock be returned collected more than 5,000 signatures, councillors say.
The clock was originally put up in Market Square as part of the Millennium celebrations. It cost £10,000 and was partly paid for by public subscription.
Newly elected Telford and Wrekin Council leader, Kuldip Sahota, said he backed community calls for it to be reinstated in the Market Square.
Overwhelming support
He said: "We had literally hundreds of messages demanding the clock be put back in the square and I hope the town council will take note.
"A great many individuals contributed towards the clock and so it really belongs to the whole community, not a few councillors who wanted it moved."
The town council will discuss where the clock should be placed at a meeting on Tuesday.
Councillor Angela McClements, who represents Arleston on the town and borough councils, said: "The public outcry from the people of Wellington has been overwhelming, with well over 5,000 signatures collected.
"I will be supporting the motion at our town council meeting on Tuesday to have the clock reinstated in the square."