Shrewsbury permit parking warning over Elton John gig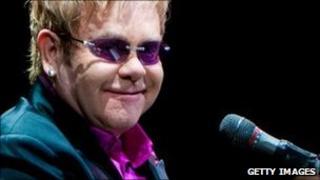 Thousands of Shrewsbury residents will need permits to park outside their own homes during an Elton John concert in the town, Shropshire Council has said.
Some 17,000 fans are expected at a the concert at Shrewsbury Town's Greenhous stadium on 12 June.
The crowd would be by far the largest seen at the ground, with just 2,782 parking spaces officially identified.
Residents and their visitors parking without displaying a free permit could face a fine, the council said.
Tim Sneddon, head of environmental maintenance, said one permit would be delivered to each house in the area, but the council would supply additional permits if requested.
The parking restriction, which will also see a section of Oteley Road closed, covers Belle Vue, Meole Estate, Meole Village, Sutton Farm and Reabrook between 1700 and 2000 BST.
Concert parking spaces have been advertised at £8 and £15, with the income generated covering the enforcement of the transport plan.
Any surplus would be split evenly between the council's future transport plans and Shrewsbury Town's Community Fund.