Olympic torch to visit modern Games birthplace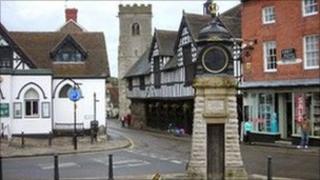 The Olympic torch is to visit the Shropshire town widely considered to be the birthplace of the modern Games.
Much Wenlock will get a visit despite Shropshire being one of six counties to miss out on an overnight stop on the torch's nationwide relay.
Britain's IOC member Craig Reedie said the route would run past many sporting venues, including Much Wenlock.
He said the intention was that the torch would go to within an hour's travel of 95% of the population.
"It will also have a British sporting history element to it - so the torch will be run past many of those famous sporting venues such as Wimbledon, Old Trafford, St Andrews and of course Much Wenlock."
'Would be devastating'
The Mayor of Much Wenlock, Mike Grace, said he had heard "encouraging noises" from the IOC that the torch would appear.
Helen Cromarty, from the Wenlock Olympian Society, said the small market town would have struggled to cope with the logistics associated with the overnight visits.
The torch stops will include shows and events, but accommodation had to be found for up to 300 people.
"It would be devastating if it didn't come here at all," Ms Cromarty added.
A bid by Shropshire and Telford & Wrekin councils included the torch visiting Shrewsbury's Quarry and using the Olympic flame to light a cauldron in the middle of the Ironbridge.
Like Much Wenlock, Ironbridge could also be visited by the torch during the day, as one of the country's World Heritage Sites.
The other English counties not receiving an overnight stop are: Herefordshire, Hertfordshire, Buckinghamshire, Northamptonshire and Rutland.
The modern Olympic movement was inspired in part by the Much Wenlock Games, founded in 1850.
The Wenlock Games were founded by Dr William Penny Brookes, who lived in the town.
They came to the notice of Pierre de Coubertin, who saw the Games as a model to revive what has become the modern Olympics.
One of the Olympic mascots has been named Wenlock in recognition of the town's historical link to the Games.