Woman dies in Shropshire remote cottage fire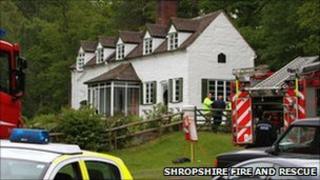 A woman has died in a fire at a remote cottage in Shropshire.
Emergency services were called to the cottage near Rindleford, near Bridgnorth, during Monday evening.
A spokesman for West Midlands Ambulance Service said they arrived to find police at the scene performing life support on the woman outside the building.
However, it had not been possible to save her and she was confirmed dead at the scene, he said.
West Mercia Police said the cause of the fire was being investigated.
A spokesman for Shropshire Fire and Rescue Service said the first fire crew at the scene had managed to get into the ground floor of the cottage and got the woman out of the building.
He added that a smoke detector inside the cottage had not been working.