RAF Cosford station commander Christoper Green dies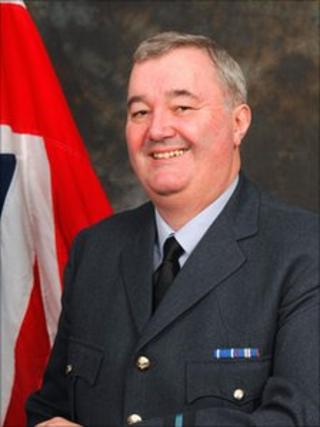 The station commander of RAF Cosford has died in his sleep at the age of 52.
Air Cmdr Christopher Green was the commandant of the Defence College of Aeronautical Engineering (DCAE) as well as being in charge of the air base.
He died during the night of 16 May at his home, where he lived with his long-term partner, Jane.
The cause of his death is not yet known but a spokesman for RAF Cosford said a post-mortem examination will be held in due course.
Gp Capt Jamie Johnston, acting station commander, said, "The death of the station commander has brought a void to the station which will be extremely difficult to fill.
"Chris was a loyal, dedicated and enormously well respected and liked individual.
"The sympathy of all the personnel at RAF Cosford, the college and the wider Air Force goes out to Jane and Chris' family on what is a very sad day for the service."
Mr Green joined the RAF in 1977 and during his engineering career he worked on Jaguar, Tornado and Typhoon fleets.
'Deeply distressing'
He was also a keen supporter of the work of the RAF Benevolent Fund.
Air Vice Marshall Mark Green said: "We are deeply saddened by the untimely death of Chris.
"I know that this news will be deeply distressing to all of those that know him as he was an outstanding officer, station commander and commandant of DCAE and consequently had many friends and colleagues who held him in very high regard.
"Equally through his engagement with the local Shropshire community on behalf of the military and more specifically the personnel of RAF Cosford, he had generated an extremely strong bond with many groups and individuals within the county.
"I have no doubt that they will equally share in our grief."